Good working conditions leaving room for a family life
The North Sea. Proper wages – on time – and working conditions leaving room for a good family life with children. Those are the really big advantages pointed out by the German couple Malte and Johanna Mayrberger when moving from the city of Berlin to the seaport of Hvide Sande. Well yes – into the bargain is also the possibility of buying your own house and the fact that people are friendly and polite.
"We would never have been able to buy a house in Germany. You need to provide a down payment of half the price to obtain a loan for the remaining, and yet it is very difficult and sometimes impossible to qualify for a mortgage," Malte explains, and Johanna adds:
"At any rate we would not have been able to afford having a child, a car, going on holidays, which we do every year, and have time for leisure activities."
Malte and Johanna moved to Hvide Sande on the 1st November nine years ago and have settled in fine. Both speak fluent Danish and the same goes for little 5-year-old Rea. However, she also speaks German. They do so at home when they don't have Danish visitors. Like her parents, she has good linguistic skills, and she is starting to learn English, so she can join in the conversation on their next holiday trip to the USA.
After approximately 6 months in rented accommodation, the family bought their first little house in Hvide Sande, and when they had a baby they bought their present big house with a wonderful garden where there is plenty of room for play and visitors.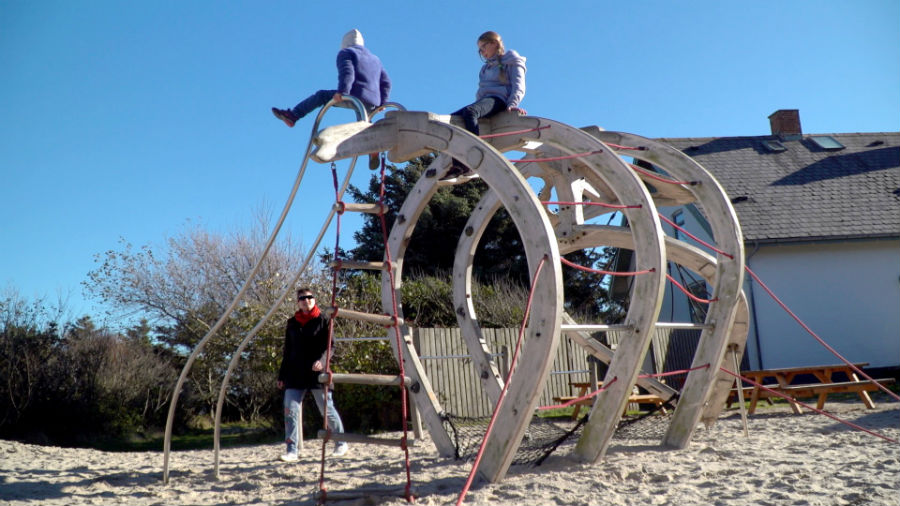 Foto: Ralf Andersen
A good place for children
"Denmark is a really good place for children. In Ringkøbing-Skjern Municipality there is for instance a placement guarantee in day cares or day nurseries when you work," the couple points out.
"Here you will find good, affordable kindergartens, and wherever you go there are exciting playgrounds for the children. Also, we are not being frowned upon if we bring Rea to a restaurant. Many restaurants here in Denmark are even featuring "kiddie corners". Denmark is simply a good place for children," Johanna says and explains that the attitude to children is totally different in Germany.
"Preferably children should only be seen and not heard, and - as a woman - it is almost impossible to have a career on the labour market if you want children. Hardly any academics have children, because you really work a lot, and you will lose your job or make do with an inferior job when you need to be away in connection with maternity leave. Even though society is gradually becoming aware of the problem, getting day care facilities for the children is still a slow process," Johanna says.
Low-paid Germans
"The problem is also that German wages are too low. A skilled hairdresser for instance only earns €450 a month, and a factory worker around €2.200," Johanna says and refers to the fact that families with young children in general are among the lowest paid. In principle, they will have to make do with the father's pay, so the mother herself can take care of the children, but to make ends meet she often needs to do another 3-4 extra jobs on the side.
It was also the standard of wages in Berlin that made Malte and Johanna pull up stakes. Malte was head of a department in a big, recognized advertising agency in Berlin. The job was exciting and demanding. In principle, he also received a fair pay, though it was rarely paid on time and usually only after several reminders, or when he succeeded in dragging his boss to the bank, so to speak.
Johanna was the manager of one of the big bookstores in Berlin and was quite satisfied with her job, yet she suggested to Malte that he look for a new job. They both come from minor towns and had expected to live in the city for 4-5 years. It ended up being nine years, so job opportunities in Southern- and West Germany were considered. However, they both wanted to live by the water. In the end they chose the North Sea, which became a determining factor for moving to Denmark
"And we just enjoy being so close to the water every day," says the couple who also has two dogs who love being walked in the sand dunes by the North Sea.
Foto: Ralf Andersen
Everything went so fast
"However, it was a bit of a coincidence that we came here. We had just been on a holiday for a couple of days in Hvide Sande the same summer as we moved to here in October 2008, and just for the fun of it we had also started learning a little bit of Danish, just as we had previously tried to learn Japanese. But other than that – unlike many Germans - we had never been regular holidaymakers in Denmark. Moving to another country was actually not something we had given a special thought. It all went very fast, as well," Johanna points out.
"Perhaps that was good, as many people consider things for so long that they give up as a result of unnecessary worries. It becomes way too complicated. We just moved," she says and tells that – on the other hand – their families were deeply worried that the couple chose to move to another country.
"They almost felt that we moved to another part of the world. But as we said it is only 250 km from the border. If we had moved to the south of Germany it might have been 6-700 km from home. I would say the difference is not that big. Both Berlin and Denmark each have five million citizens – who are just more scattered, and when we pop over to Aarhus it virtually does not take longer than we used to spend on getting out of Berlin," Johanna explains with a smile.
It is also easy to visit the family in Germany, and the family have also found it a lot easier to find their way to Hvide Sande.
"The very first year we had more visits from the family than we had in the nine years altogether when we were in Berlin," Malte adds.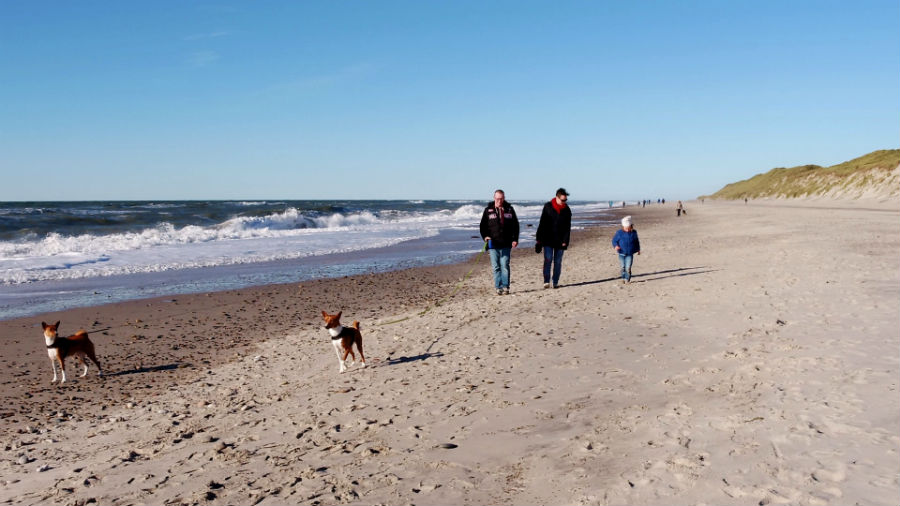 Foto: Ralf Andersen
Both got jobs and moved in a few weeks
And yes it went very fast when the couple moved to Hvide Sande. In September 2008 Malte contacted approximately 15 companies which he had found on the internet located along the West Coast. He was positively received. After a few days, he had his first interview in a company in Esbjerg. Shortly after, he was invited to an interview in Hvide Sande, and both Malte and the manager of Appollo Media in Hvide Sande immediately accepted. Malte is still employed with the company.
Malte signed the dotted line on his contract of employment on the3rd October – his boss helped him get a Civil Registration Number (CPR), a tax form and rented accommodation in town. Among other things, Johanna holds a German mercantile education, and – as she says herself – she can run a business and sell anything. As a result, one of the first places she contacted was the ironmongery, Inspiration, in Ringkøbing and she was immediately hired on the3rd October when she accompanied her husband to Hvide Sande. As a matter of fact, they would have liked her to start the following day. However, it was agreed that she started on the1st November, so during the next three weeks Johanna and Malte were busy in Berlin – they resigned from their jobs, sold most of their belongings and were back in Hvide Sande on the27th October.
Learned Danish by herself
They only knew a few Danish words, so Johanna had to use both gestures and facial expressions, and English and German when she first started as a shop assistant during the bustling Christmas season. In the beginning, it was not necessary for Malte to know much Danish, because his boss was in charge of customer relations. Yet, the couple saw it as a challenge to learn the language, and today they both speak fluent Danish.
"To study independently was decisive for us, and also that we dropped watching German television. We were simply only able to watch Danish television and foreign films with Danish subtitles," Malte says. Furthermore, especially Johanna threw herself into association life to learn the language in practice. For instance, she joined a knitting club and worked as a volunteer at the Living History Museum of Bork Harbour. Now she has signed up for yoga classes in Ringkøbing.
The free language class offer was only used a little in the beginning.
"The class was of very mixed abilities, and it was very much a question of practicing speech, but for me it was a waste of time, since I spoke with customers all day. I wanted to learn the basic grammar to be able to master the language perfectly, so I taught myself," says Johanna, who believes it is very important for newcomers to learn Danish.
"You may be able to cope with German and English here, but it does indeed get boring if you only socialise with other Germans and e.g. cannot join in the conversation at the work place where you for instance talk about all sorts of things during lunch break, such as each other's children etc."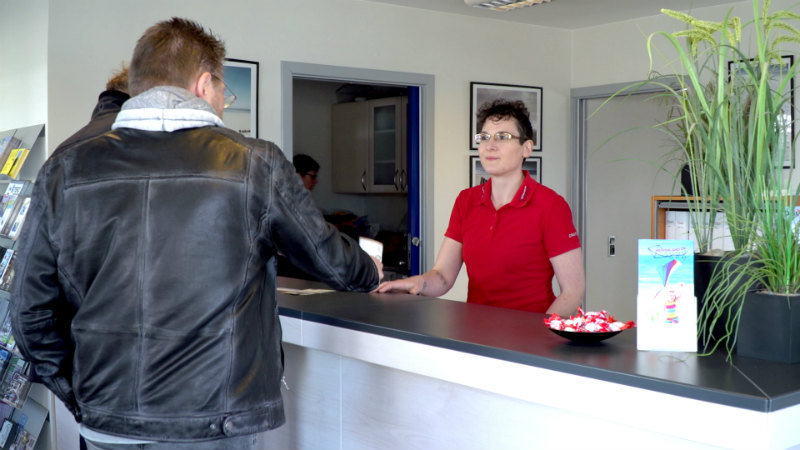 Foto: Ralf Andersen
Flexible Working Conditions
Johanna chose to find a new job in connection with the birth of her first child. Now Johanna is working 31 hours, and instead of long and late shop hours she now has a job at Westerland Feriehusudlejning (Westerland Holiday Rentals) in Søndervig which means that she can pick up Rea early from kindergarten on most days.
"It is nice to have such working conditions," she stresses, and Malte points out that there is always a positive attitude and flexibility in his work place if he for instance needs to accompany Rea for something. But they also both enjoy that there is time for leisure- and family life.
"In Berlin we more or less always had a meal in a restaurant during week days, because we worked so late in the evenings that we couldn't be bothered to cook at home," Malte points out.
In her job with holiday home rental Johanna benefits from her German mother tongue in her contact with customers. Among other things she also works with marketing and has assisted the company in joining a holiday trade fair in Germany.
Malte works with web development and web design of both big and small websites and uses his graphic education for the layout of printed matters, advertising material and a lot of other things. It appeals a lot to him. But in the beginning it was difficult getting used to the Danish working hours, and he still prefers to finish a task completely even though it cannot be done within normal working hours, but now he has found out that he can work flexible hours.
Foto: Ralf Andersen
The very fact that many Danes leave work on time also surprised Johanna – especially in the beginning. "It is difficult for me to understand that you can stop working on a task, even though you are only five minutes from being completely done with it," Johanna says and laughs a bit at herself when she tells that Danes' politeness still annoys her a little bit when she is to be efficient. I might say "Pass me that plate," when we are having lunch. A Dane would always say in a polite way: "Would you please pass me a plate."
"However, I have become used to this, and I think it is quite natural to e.g. say "Thank you very much" when the cashier nicely wraps up your goods. In Germany you would more likely be frowned upon if you said thank you in such a case. The cashier would think: I wonder what's wrong? I am just doing my job," Johanna says and explains that one of the things that surprised her in a positive way was the very politeness and the Danes' immense trust in each other and the authorities.
Malte nods: "In this country we do indeed have great trust in e.g. the tax authorities, just as dialogue with public authorities is easy. Unlike Germany, we are not afraid of the state and very critical towards public authorities where many in general expect to be cheated, and there is often a lot of red tape."
"We were also in for a real shock in the beginning when our bank suddenly called us and asked us to turn up for a meeting. We couldn't understand, so we were absolutely sure that we had done something wrong. It turned out to be a service on their part, and all they wanted was to inform us about pension savings schemes," Johanna adds.
Furthermore, Malte wants to emphasize something totally different about Hvide Sande and Denmark: "it is also a lot easier to go shopping! There is a much smaller range of staples here. I do not have problems since I need not choose among 8-metre long floor-to-ceiling shelves filled with many different items when I am going to buy a glass of pickled gherkins. Here the range consists of only 5-10 different items, and I do not miss having an unnecessary selection," Malte says with a smile.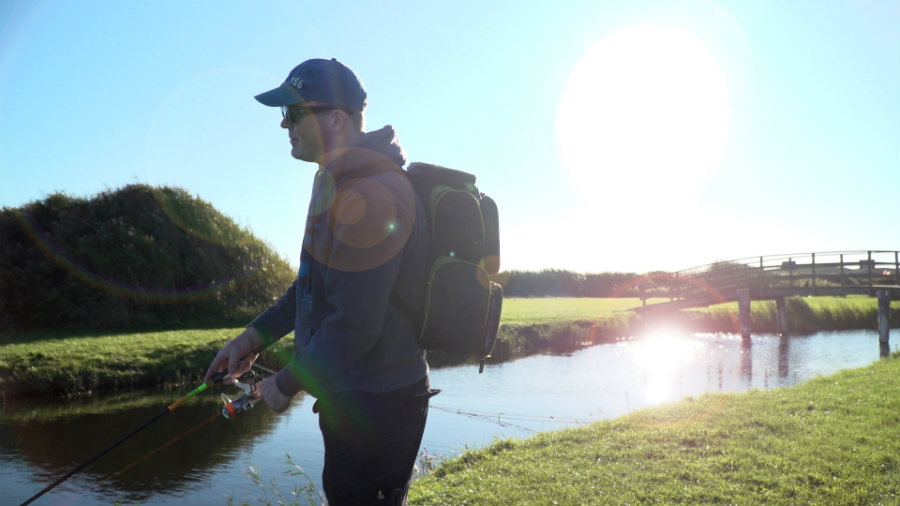 Foto: Ralf Andersen
Likes the Challenge
However, work, child, house and general leisure activities are not enough for Johanna and Malte. The couple likes being challenged and learn new things. They like "action", so Johanna is just about to complete her bachelor's degree in tourism through distance learning in Germany and is considering future prospects.
Malte would like to use the good natural surroundings of Western Jutland in his spare time. He has therefore chosen to take up his old hobby as an angler. But as it would become both too expensive and incompatible with family life he has confined himself to trout angling in Put & Take lakes. On top of that and as a result of his hobby, he has now become self-employed in his spare time, because he found out that there was too much wrong and non-updated information on the internet about this very type of angling. Consequently, he has developed a website – www.angelsee.info – about Put & Take fishing aimed at Germans. To begin with this only includes the area of Western Jutland. However, he is seeking and getting information everywhere, so eventually it will cover the entire country.
For more information about moving to Hvide Sande in Ringkøbing-Skjern Municipality - the biggest in Denmark, please go to www.flytmodvest.dk
Facts about Hvide Sande:
With its unique location halfway between the North Sea and the Ringkøbing Fjord, Hvide Sande is the perfect place if you want to live close by the water.
Hvide Sande is a small town with around 3,000 permanent residents, but with many more holidaymakers – especially in the summer. Hvide Sande is the fifth largest town in Ringkøbing-Skjern Municipality, which is the biggest municipality in Denmark.