The yellow health insurance card
Denmark has an extensive public health- and health insurance system offering free consultation and treatment at a local GP, out-of-hours medical services, and public hospitals. Examinations and treatments are free.
You are covered by the Danish health insurance system if you work and reside legally in Denmark. In connection with your entry registration, you will be allocated a GP of your own choice, and you will receive a national health insurance card, colloquially called "the yellow health insurance card". In addition to your personal details, the health insurance card also contains the name of your GP.
As a rule, your GP is responsible for treating you if you need medical help and refers you to specialist doctors or a hospital, if necessary.
The GP, who is often also called the family doctor, has special rules for appointments, telephone hours etc. Outside normal working hours an automatic answering machine will inform you about contact to the A & E doctor, (accident and emergency ward).
Dial 112 in the case of emergencies or illness.
Children are covered by the health insurance scheme together with their mother and father until they have reached the age of 15. Subsequently, they get their own health insurance card and are entitled to choose their own GP.
When you see a doctor, specialist doctors, or receive treatment for instance at the hospital, or in other places where you undergo treatment, you must bring your yellow health insurance card. You must also bring the yellow health insurance card if you are to see a dentist or a physiotherapist, where treatments are partly covered by public payment.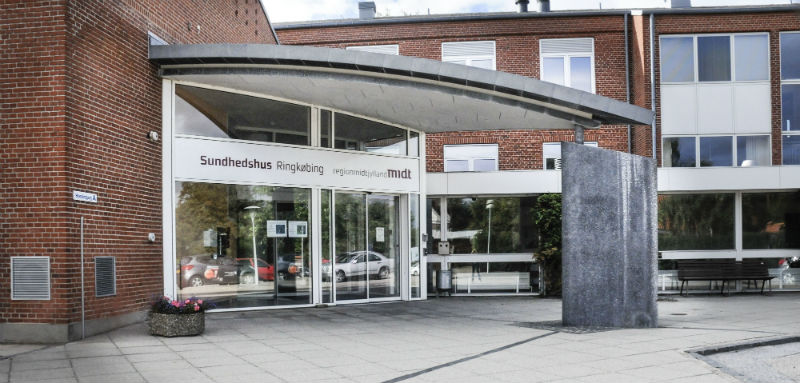 Sundhedshus Ringkøbing - Foto: Region Midtjylland
The health insurance card can also be used as proof of identity in other connections. For example many libraries, including the libraries of the Ringkøbing-Skjern Municipality, use the health insurance card as a library card.
For more information about the Danish health system, click HERE.
Including among others your options of interpreter assistance.