TARM OFFERS TRADE AND DEVELOPMENT
Tarm is the fourth biggest and southernmost of the major towns in Ringkøbing-Skjern Kommune with approximately 4,000 citizens. The name bears no relation to the intestines, but instead derives from the geographical term for its old location, where "Tarm" meant a long narrow strip of land. The town has its origins in the 14th century and was for several hundred years a trading place on the cattle drive from the Limfjord to Northern Germany.
Modern-day Tarm, however, was built around 1850, and it especially blossomed when the railway came in 1875. About 10 years later Tarm Realskole (Secondary School) was started as a day- and boarding school. In 1928 the first Studenterkursus (2-year Upper Secondary Education) was set up, and 10 years later it was transformed into a private self-governing institution VGT - Vestjysk Gymnasium Tarm, which since 2007 - after changing ownership - has been a state-owned self-governing educational institution.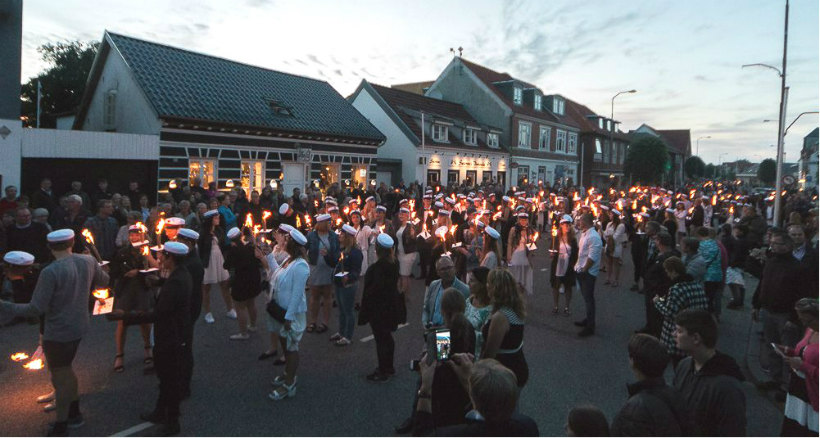 Foto: tarm.handel.dk
Tarm can still boast of an active trade and industry, and the old trading traditions are still kept up with a weekly flea market in the summer months. The FLEA MARKET DAYS, which are renowned as being the biggest in Western Jutland are visited by both local merchants and merchants from other places. The market visitors are also coming from near and far.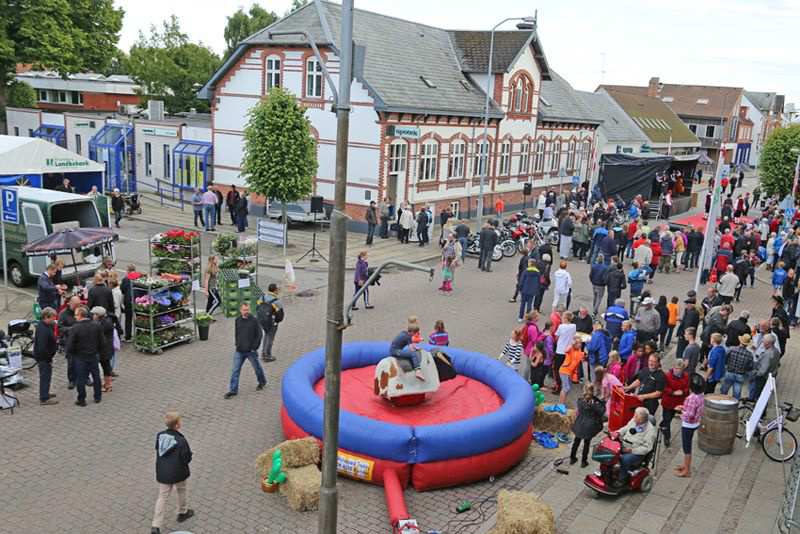 Foto: tarm.handel.dk
Tarm CLOSE TO NATURE AND ART
If you settle in Tarm - as is the case with neighbouring Skjern you will be close to the big recreational areas around the Skjern Å River, and in Tarm you are also close to the moors of Lønborg. The moors are owned by The Danish Nature Agency and are a good place for an outing, with rare butterflies and a unique flora.
Besides, when settling in Tarm you will not only be close to beautiful scenery, but also several interesting pieces of art. For instance the sculpture "Genius" by Peter Heinze, which represents seven owls in a tree symbolizing the seven parish councils which merged into the then Egvad Kommune in 1966. "The Diving Lady" by the sculptor Jens Galschiøt and Hanne Varming's "Mother and Child" are also on the ART-ROUTE in Tarm. Tarm also has a CULTURAL HOUSE.

Foto: tarm-handel.dk
If you move to Tarm you will be able to find all types of housing, from high-quality terraced houses, and flats, to old houses, big family houses, and villas. Click to see where you can BUY A HOUSE, RENT A HOUSE, or find a PLOT if you want to build your own dream house.
Unter folgenden Links findest du Informationen über den Kauf oder Miete von Häusern und Wohnungen, BUY A HOUSE, RENT A HOUSE , or find a Plot, if you want to build your own dream house.
You may also become one of the first to buy a site and build a house in an exciting housing area in Tarm around a newly established lake: Søparken.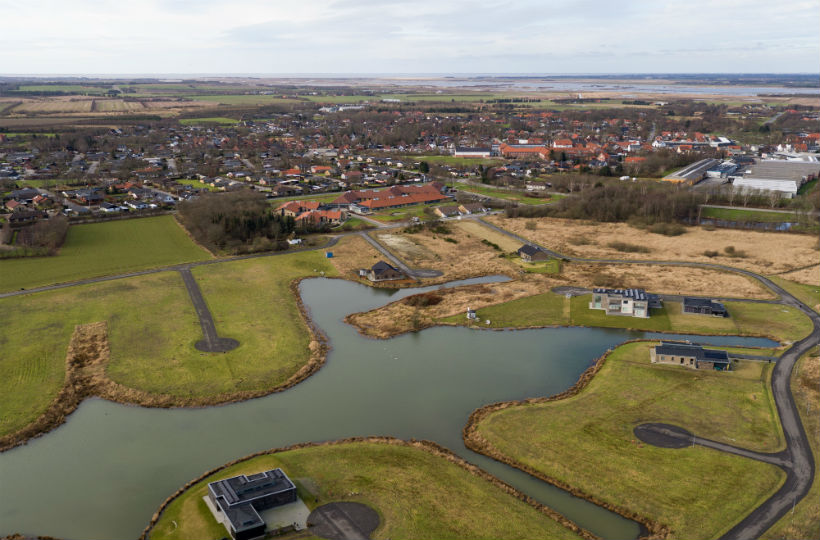 Foto: Tarm EDC
WOULD YOU LIKE TO TEST TARM?
Or perhaps you may become one of the first to move into a special "newcomers' house". In connection with the establishment of Søparken Ringkøbing-Skjern Kommune has given the Skjern-Tarm Craft- and Industry Guild special support for the establishment of the "RKSK Commuter House". This housing project was completed on 1st July, 2017, and it is to be used as a temporary tenanted house for commuters to companies in Ringkøbing-Skjern Kommune.
The idea is to let potential newcomers with a job in the area in that way have the possibility of renting an attractive house on an impressive site and "test Tarm", before finally deciding on permanent residence in Tarm. Tarm does indeed welcome both more citizens and more development in the area. Many enthusiastic people are working on that through i.a. TARM LOCAL COUNCIL and TARM DEVELOPMENT FORUM, which for instance are responsible for the implementation of various projects and events making Tarm an attractive place to live.
BUSINESS LIFE AND HEALTH
Among the big companies in Tarm VM Tarm a/s can be mentioned. It produces tankers of stainless steel and aluminium for i.a. milk, feed, liquid manure, chemicals, oil, and petrol, GPV - Electronics Manufacturing Services, who are specialists in producing combinations of mechanics and electronics for customers world-wide, and Orla Hansen A/S, who is a major supplier of barn equipment for the European agricultural market. Among others is also ST Skoleinventar, which has developed, produced, and provided high-quality devices for the Danish educational sector since 1950. Now the company is also represented in Norway and England.
A number of the health issues of Ringkøbing-Skjern Kommune with i.a. sports training, rehabilitation, treatment of drug abuse and health advances are based at HEALTH CENTRE WEST in Tarm. In the former hospital in Tarm you will now also find the HEALTH CARE HOUSE which i.a. has a radio-therapy department and a midwifery department, and the hospital kitchen has been transformed into the municipal kitchen Åkanden, which daily supplies citizens, nursing homes, and institutions all over the municipality with food.
Health Centre West is the driving force of Ladywalk Tarm. Below you can get an impression of the great number of people who supported the event in 2016 and at the same time watch photos of the town of Tarm and its neighbourhood:
Ladywalk Tarm 2017 was held on 29th May 2017. Ladywalk Tarm 2018 will be held on 28th May 2018.
TRAFFIC
On the map with commuting distances on the FRONT PAGE you will be able to see how far you may get around from Tarm by car with the most general commuting distances. Irrespective of where you settle in Ringkøbing-Skjern Kommune you may get far, because you need not spend a lot of time queuing to get out of town.
If you settle in Tarm, you will be close to BILLUND AIRPORT, so you also have easy access to other parts of the country or other parts of the world. It only takes 45 minutes by car.
You can also catch the TRAIN to Esbjerg or Skjern. From Skjern there are connecting train services to Ringkøbing-Holstebro-Struer and to Herning-Aarhus. There are LOCAL BUSES and a regional bus service between Skjern, Tarm, and Nørre Nebel.
MORE ABOUT TARM
Have you become tempted to move to Tarm? You can find further information about Tarm under Tarm Handelsforening and Ringkøbing Fjord Turisme. You are also welcome to join a personal guided tour to obtain advice and guidance from the newcomers' guide for the Tarm area.
Below you can find contact information about the day care facilities, schools, and other educational institutions as well as sports centres and swimming facilities.
Day care facilities in TARM
For further information about the municipal day care and day care centres, click here.
Age-integrated day nurseries with day care/crèches
Børnehaven Solstrålen
Lønhøjvej 38, 6880 Tarm
Phone: (0045) 99 74 25 50
solstraalen-tarm@rksk.dk
Klatretræet
Skovvej 29, 6880 Tarm
Phone: (0045) 97 37 31 37
klatretraet@rksk.dk
Schools in TARM
Tarm Skole
Vardevej 11, 6880 Tarm
Phone: (0045) 99 74 11 11
tarm-skole@rksk.dk
www.tarm-skole.skoleporten.dk
Tarm Skole, Overbygningen
Lønborgvej 53, 6880 Tarm
Phone: (0045) 99 74 27 74
Boarding schools
Blåkilde Efterskole
Blåkildevej 19, 6880 Tarm
Phone: (0045) 97 37 11 63
info@blaakilde-efterskole.dk
Solgården
Vardevej 68, 6880 Tarm
Phone: (0045) 97 37 11 51
kontoret@solgaarden.dk
Upper secondary education
Vestjysk Gymnasium Tarm
Skolegade 15, 6880 Tarm
Phone: (0045) 97 37 18 33
vgt@vgt.dk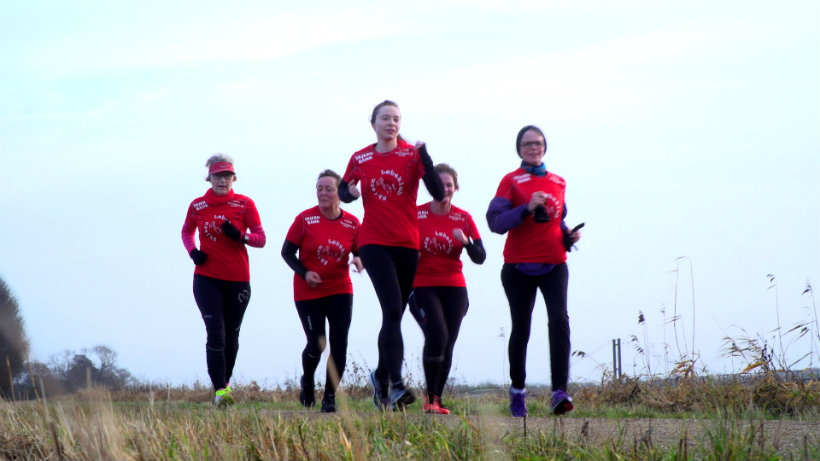 Foto: Ralf Andersen
Sports- and swimming facilities
The active club and association life is thriving in Tarm like any other places in Ringkøbing-Skjern Kommune, and many activities are connected with the SPORTS CENTRE IN Tarm, which has many offers for the active family, i.a. a swimming hall with a hot-water pool, providing plenty of space for swimming, a 60-metre water slide, 1- and 3-metre springboards, a Jacuzzi, and a baby pool, a fitness centre, tennis- and badminton lanes etc. Almost next to it, you will find Tarm Bowling & LEISURE CENTRE.
The citizens of Tarm also use the many opportunities of exercise - walks, running, or biking - in the big nature areas around the Skjern Å River.
Click here for local clubs and associations in Tarm and learn more about the leisure activities in Ringkøbing-Skjern Kommune under Leisure-Nature-Culture: Fritid-Natur-Kultur. Use the Google Translate function.