Live close to everything in Videbæk
Counting approximately 4,200 citizens Videbæk is the third largest town in Ringkøbing-Skjern Kommune. At the same time it is the easternmost town in the municipality, and in popular terms it is the gateway between Western Jutland and Central Jutland and close to everything.
Located right in the middle between Ringkøbing and Herning you can reach the two towns by car in about 20 minutes towards the west or the east, respectively. It takes the same time to go south to Skjern and another 10 minutes to go north to Holstebro. Videbæk is also only 20 km from the motorways to Aarhus and Vejle-Copenhagen/Naples.
If you plan an outing to feel the roaring of the North Sea in the next storm it will only be a 30-minute drive. In less than an hour Billund AIRPORT, can be reached, and you can reach other destinations abroad, or in less than an hour you can experience a concert in THE CONCERT HALL in Aarhus. In 20 minutes you can also reach the great events at Boxen in Herning. If you settle in Videbæk and get a job at the New Regional Hospital Unit West Jutland at Gødstrup, it will only be 20 minutes by car. In 45 minutes you can also reach MIDTJYLLAND'S AIRPORT at Karup.
HOUSING AND JOBS
If you want to live in Videbæk you can get all kind of housing. Here you can have a cosy little flat, a big detached house in a quiet area, an old typical period house in a cul-de-sac or a plain terraced house. Click here to BUY A HOUSE, RENT A HOUSE, or Plot for further information about where to buy or rent property or finding a plot if you want to design the house of your dream yourself.
As the commuter map on the front page also shows, you will be able to find work places far and wide without having to drive for hours on end to get to work. However, you may not need to drive to work at all, because you may be able to walk or ride your bike to one of the big companies of the town. For more information about job opportunities, see VACANCIES and Work.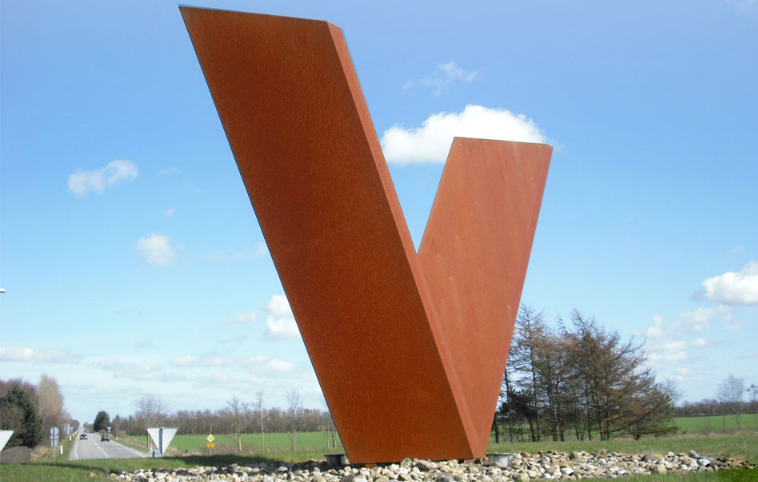 Foto: hvidesande.dk
ACTIVE BUSINESS COMMUNITY
Videbæk is both an active BUSINESS- AND SHOPPING TOWN, as well as being the inventor of the landmark of the town - Per Arnoldi's huge V, which is welcoming everybody from the east. Videbæk houses several of the biggest manufacturing companies in Ringkøbing-Skjern Kommune employing several thousand employees. Among those having big branches in Videbæk are Vestas and Arla/Arinco.
Videbæk boasts a flourishing commercial life. To attract shoppers, ongoing activities are arranged, and among the permanent big events are the Summer- and the Open by Night-events, adding a festive atmosphere to the town - as below at Westergaard´s Hotel, which - originally an inn - was the first building in Videbæk from the mid 1850s, except for a few farms. Videbæk, whose name derives from the stream in which osiers (a kind of willow) could be found, celebrated its 150th anniversary in 2007.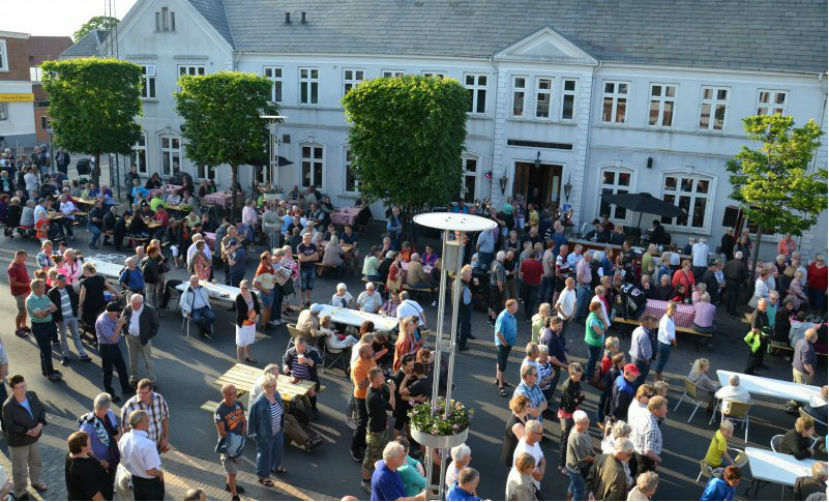 Foto: Videbæk Handel og Erhverv
ART AND CULTURE AT TOP-LEVEL
Admittedly, Videbæk neither has fjord nor sea close to the town, but there are both green areas and lots of creaks nearby where FREE ANGLING is an option. Moving to Videbæk you will also experience top-level art and culture close at hand.
THE ART PAVILION OF WESTERN JUTLAND, designed by the late, world-famous architect Henning Larsen adorns the large park of the town. The art pavilion makes room for changing and exciting exhibitions attracting art lovers from far and near. Henning Larsen was born in the little village of Opsund outside Videbæk, and the trade and industry and the citizens of the town instantaneously supported the project and procured money for the building when Henning Larsen Architects offered to provide the masterplans for the art pavilion. The art pavilion, which opened in 2012, has become a significant beacon for art in Western Jutland.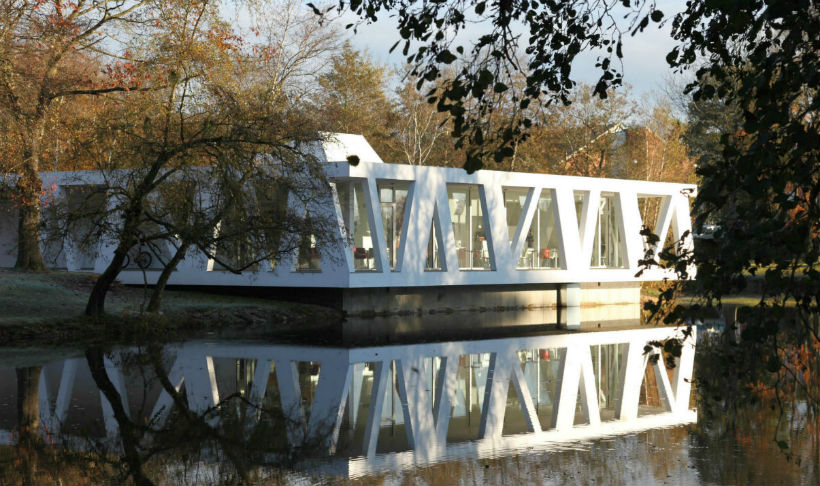 Foto: RKSK
Among the many exhibitors since the opening is the recognized artist Arne Haugen Sørensen, who grew so fond of the art pavilion and its surroundings in Videbæk that - in the spring of 2016 - he donated 74 colourful arts of work from his private collection to the Vestjyllands Kunstpavillon Foundation. The donation is estimated to represent a double-digit million value, and the arts of work will form the basis of the future Arne Haugen Sørensen Museum. It is built as an extension to Vestjyllands Kunstpavillon. The first plumbing for construction, supported by Ringkøbing-Skjern Municipality, the local SKAK Fund and Realdania, was taken in January 2017 and the museum opened in September 2017.
Videbæk also has other sights nearby e.g. Jyllands Park Zoo, Momhøje Naturcenter, THE LIGNITE LAKE AT TROLDHEDE, and Laugesens Have, which has transformed from a stately garden amidst the moors into a modern course- and conference centre.
MORE ABOUT VIDEBÆK
You can find information about the commercial life and associations in Videbæk on the independent website Videbæk and THE TOURIST WEBSITE of Ringkøbing-Skjern Kommune.
You are also welcome to join a personal guided tour to obtain advice and guidance from the newcomers' guide for the Videbæk area.
Below you will find contact information about the day care centres, schools and other educational institutions of the town, as well as sports centres and swimming facilities.
DAY CARE FACILITIES IN VIDEBÆK
For further information about the municipal day care and day care centres, click HERE:
Børnehaven Solstrålen
Solsøhedevej 14. 6920 Videbæk
Phone: (0045) 99 74 20 00
solstraalen-videbaek@rksk.dk
Lions Clubs Børnehave Videbæk
Bogfinken 5, 6920 Videbæk
Phone: (0045) 97 17 19 20
lions.club.bh@rksk.dk
Børnehaven Gl. Kongevej (with crèche)
Gl. Kongevej 53A, 6920 Videbæk
Phone: (0045) 99 17 37 27
gl-kongevej@rksk.dk
.
Schulen in Videbæk
Videbæk Skole
Bredgade 120, 6920 Videbæk
Phone: (0045) 99 74 25 70
videbaekskole@rksk.dk

Videbæk Kristne Friskole
Ternevej 1, 6920 Videbæk
Phone: (0045) 97 17 23 24
vkf.681009@skolekom.dk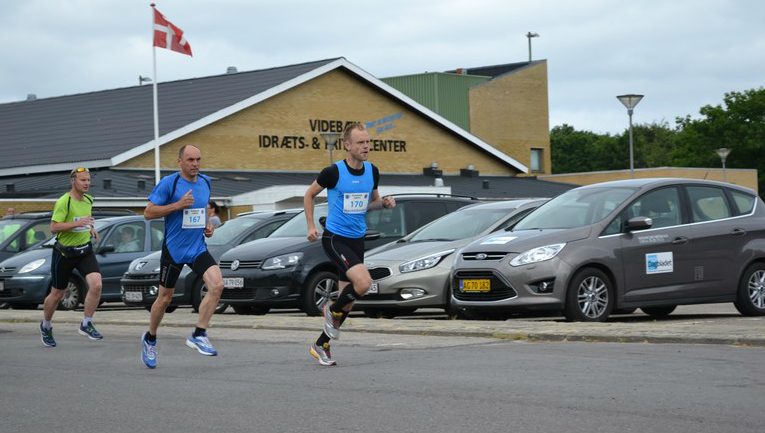 Foto: Videbæk-løbet
SPORTS CENTRE- AND SWIMMING FACILITIES
VIDEBÆK SPORTS- AND LEISURE CENTRE consists of two sports halls, a swimming pool, a bowling alley, an exercise- and fitness department, and every year local enthusiasts organize several events, i.a. THE VIDEBÆK RACE, which takes place in May, and Videbæk Adventures, which is a special orienteering race in April challenging the participants with everything from running, climbing to canoeing, kayaking and much more.
Like all other places in Ringkøbing-Skjern Kommune Videbæk prides itself of having active clubs and associations. The town has i.a. also a local hall and an active church life, including several church halls. For further contact information about associations and clubs in Videbæk, click Hier. For additional information go to, Leisure-Nature-Culture: Fritid-Natur-Kultur. Use the Google Translate function.