LIVE BETWEEN SEA AND FJORD
With its unique location, right in the middle between the North Sea and the Ringkøbing Fjord, Hvide Sande is the optimal place if you want to live close by the sea. Here you may be fortunate enough to find a home overlooking both sides. At any rate - if you move to Hvide Sande - you will be living within walking distance of both the roaring sea and the calmer waters of the Fjord.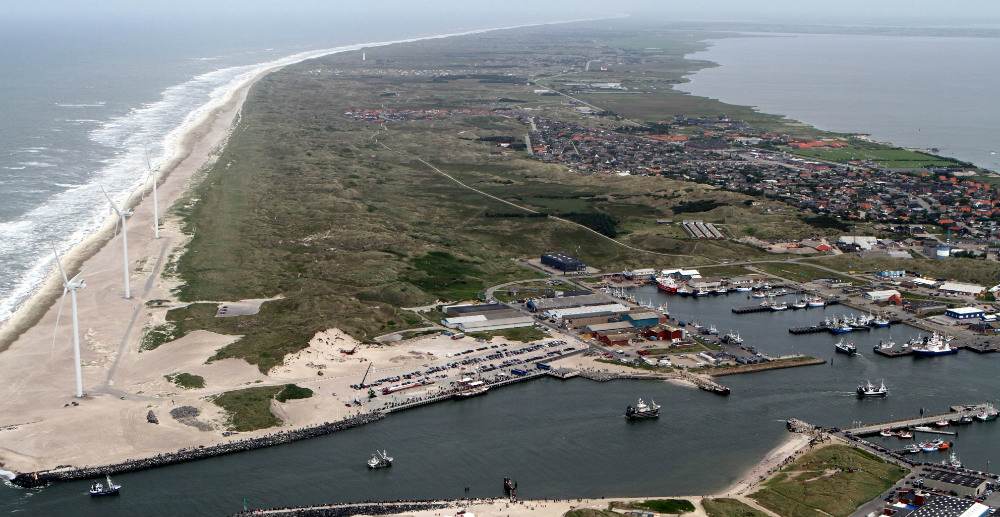 Foto: hvidesande.dk
WORLD-CLASS WATER SPORTS
A lingering look or a walk along the sea is always balm to the soul. If you are into more than the view you can gambol in the playground of thousands of other water enthusiasts. In Hvide Sande you will find world-class water sports, whether it is surfing, SUP, kitesurfing, windsurfing, wakeboarding or something totally different.
THE CABLEPARK in Hvide Sande hat Dänemarks erste und größte Kabelbahn für Wakeboad und Wasserski.
The annual WATER SPORTS FESTIVAL, WATERZ, which is the biggest in Scandinavia, is the hot spot for all - from beginners to professionals, including a World Cup in Windsurfing.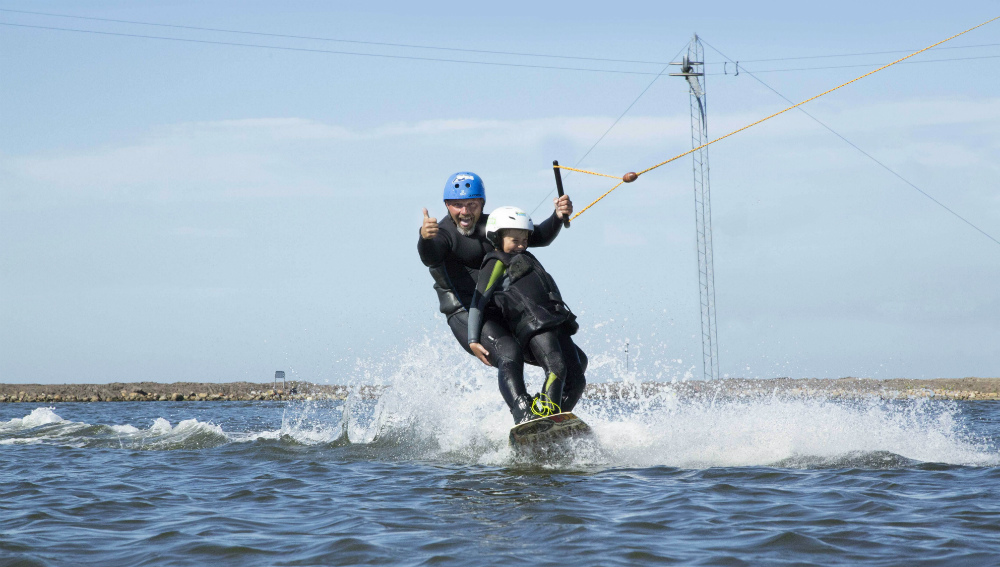 Foto: hvidesande.dk
Consequently, you may have even more new neighbours who are into windsurfing, kitesurfing, or Stand Up Paddling. Year round you can meet people from all over the world who share this interest, and there is plenty of room for both professionals, semi-experienced and eager beginners.
ACTIVE BUSINESS COMMUNITY
If you settle in Hvide Sande your new neighbor might also be a boat builder or an engineer from the Hvide Sande Shipyard,Steel and Service, a fisherman who supplies the local restaurants and FISH SHOPS
with freshly caught fish, or a skilled worker in the fishing industry. Long before the town became a favourite water sports venue Hvide Sande was known as a fishing town with its many fishing boats and as the hub of the big work places in the fishing industry. Fishing - together with tourism - is still the hallmark of the town.
Among other well-known Hvide Sande companies, the marine manufacturer AS SCAN and HVIDE SANDE HAVN can be mentioned.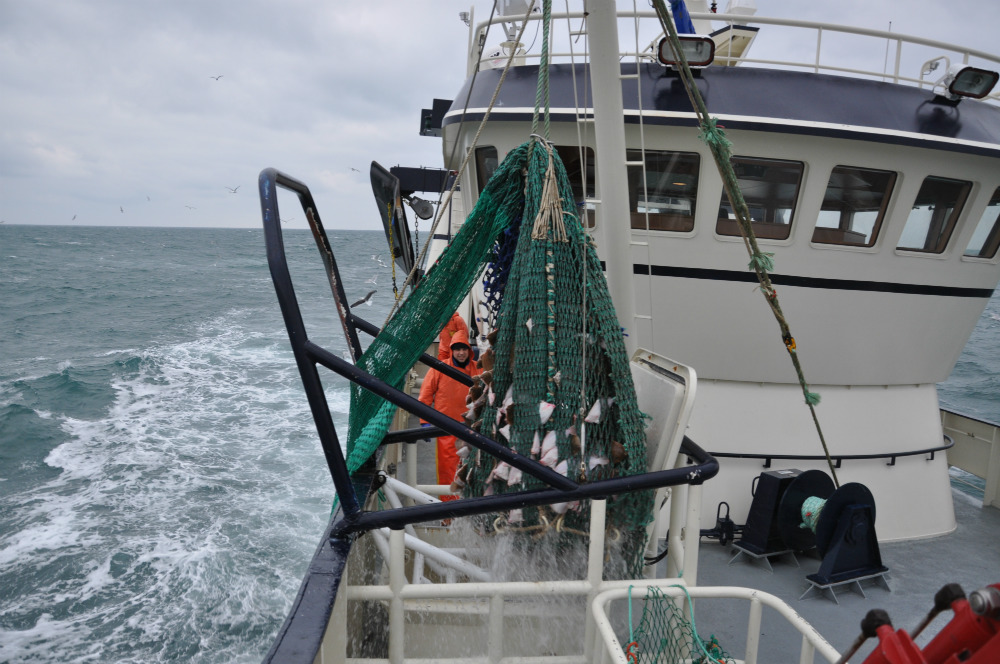 Foto: Kurt Adsersen
The town is located amidst the Holmsland Klit isthmus. It came into existence around the huge sluice facility between the North Sea and the Ringkøbing Fjord, which was built in 1931. The town now houses one of the biggest fishing harbours with approximately 200 registered fishing vessels.
The citizens of Hvide Sande are renowned for their entrepreneurial spirit. This is necessary when you are so close to the forces of nature. Here limitations are a no-go. Instead, you join together and make things happen, whether it is a big extension of the harbour, wind turbine projects, or big events.
TOWN LIFE AND HOUSING WITH A VIEW
Hvide Sande is the 5th largest town in Ringkøbing-Skjern Kommune - with approximately 3,000 permanent residents, but the wide variety of shops and RESTAURANTS
matches that of considerably major towns. This is due to the demand for exciting shopping facilities from a great number of annual visitors to the area.
You may find multiple housing opportunities in Hvide Sande. Everything from small, snug houses to big exquisite single-family houses. Some houses offer a view to the North Sea, others a view to the Ringkøbing Fjord. You might also be lucky to find both.
Do you feel tempted to move to Hvide Sande? For more information, click BUY A HOUSE, RENT A HOUSE/FLAT, or to find a PLOT if you want to design your dream house.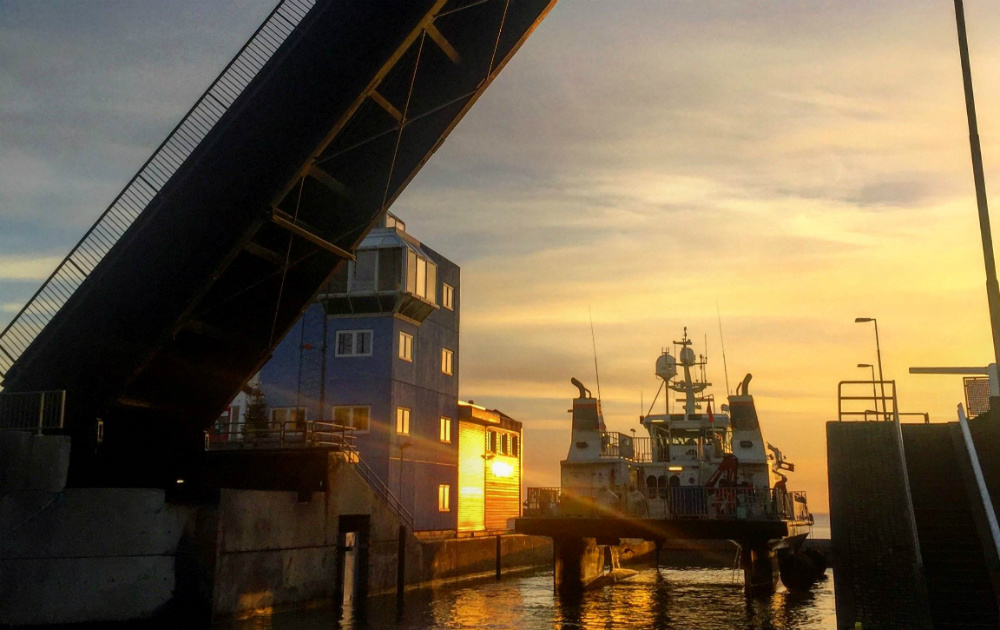 Foto: Mette Trads
TRAFFIC
On the commuter map on the Frontpage you can see how far you will get around by car with the most general commuter distances, if settling in Hvide Sande while having a job at another location. There is a BUS SERVICE, also an X-BUS, between Hvide Sande and Ringkøbing. From Ringkøbing connections by train or bus to Skjern, Holstebro, and Herning are available. From Hvide Sande it is 1½ hours' drive to BILLUND AIRPORT und MIDTJYLLAND´S AIRPORT.
MORE ABOUT HVIDE SANDE
You can read more about Hvide Sande under Ringkøbing Fjord Turisme. You are also welcome to join a personal guided tour to obtain advice and guidance from the newcomers' guide for the Hvide Sande area.
DAY CARE FACILITY AND SCHOOL IN HVIDE SANDE
For further information about Ringkøbing-Skjern Kommune offer of day care and day care centre, click hier. Below you will find contact information about Hvide Sande day care/day nursery and the school:
Klittens Børnehus
Parallelvej 301, 6960 Hvide Sande
Phone (0045) 99 74 12 00
klittens-boernehus@rksk.dk


Hvide Sande Skole
Skolevej 2, 6960 Hvide Sande
Phone (0045) 99 74 26 60
hvidesandeskole@rksk.dk
Afdeling Fjordskolen (0-3rd grade + after-school care facilities)
Gytjevej 70, 6960 Hvide Sande


SPORTS CENTRE AND SWIMMING FACILITIES
HVIDE SANDE HALLEN both holds a sports centre, swimming facilities as well as a fitness centre. For information about one of the active associations in Hvide Sande, click BOLDKLUBBEN KLITTEN.
Search for local associations in Hvide Sande by clicking Here, and go to FRITID-NATUR-KULTUR to learn more about leisure activities in Ringkøbing-Skjern Kommune. Use the Google Translate function.