LIVE WITH THE PRESENCE OF HISTORY AND TOWN LIFE
Ringkøbing is the biggest town in Ringkøbing-Skjern Kommune - the Realm of Nature - with almost 10,000 citizens. As one of the oldest market towns in Denmark the streets clearly show the presence of history and this, combined with modern-day stylish town life and town development, makes it a unique and charming town to settle in.
The town offers everything. The red-tiled roofs, beautiful cobbled streets and old houses bear witness of Ringkøbing's active life in medieval times as a trading post for all types of sailing vessels. In those days, exotic scents of i.a. tobacco from the many merchant houses of the town were dominant, because Ringkøbing was one of the few places on the West Coast at the time, which could be accessed by trading vessels.
Later the town became known as a centre of authority for Western Jutland, and from the beginning of the 19th century Ringkøbing has among other things been enriched with many impressive buildings, designed by the architect Ulrik Plesner, Plesner, who is also renowned for many other buildings from Skagen to Copenhagen, was the son of a vicar from the vicarage of Vedersø Præstegård, subsequently the home of the famous vicar and poet, Kaj Munk.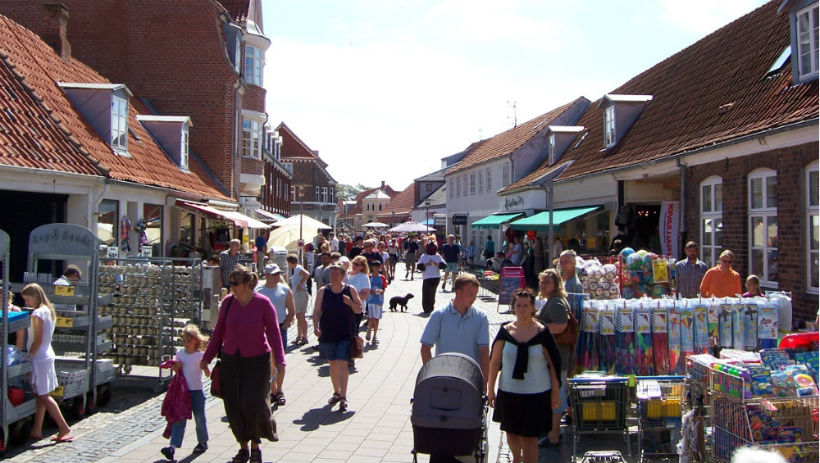 Foto: RKSK
TOWN LIFE IN RINGKØBING
Today the town can pride itself of shopping streets with exciting speciality stores matching the offers of the big cities. You can buy fresh, local produce in the speciality stores, and there is a variety of ordinary Shops, also with staple goods. If you move to Ringkøbing you will have cafés and restaurants, to choose among, when you are having a nice time with your friends, your partner, or the whole family.
If weather permits serving outside takes place, i.a. by the harbour or in the Town Square, which regularly hosts musical events, market days, and other exciting activities. The old tradition with the TOWN WATCHMEN'S SONGS, is an established practice in the summer to the delight of both the citizens of the town and its many visitors. Here you will find a couple of examples of MUST-SEES in Ringkøbing.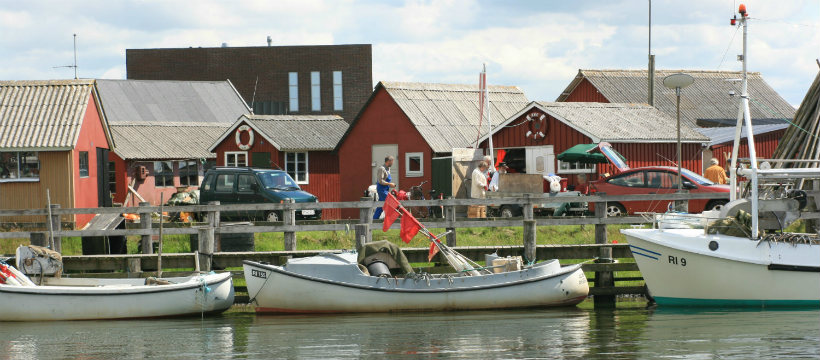 Foto: RKSK
The fishermen are still drying their nets in front of the Town Hall, and part of the old fisherman's environment is still to be found by the harbour which in return has become a centre for attractive housing with a fjord view.
The nature around the fjord is quite close to the town, with many oases for walking, cycling or running in your spare time. The fjord itself also invites to a lot of water sports activities - especially if you are a beginner and would like to practice in more smooth waters, before adventuring into the dramatic waves of the North Sea.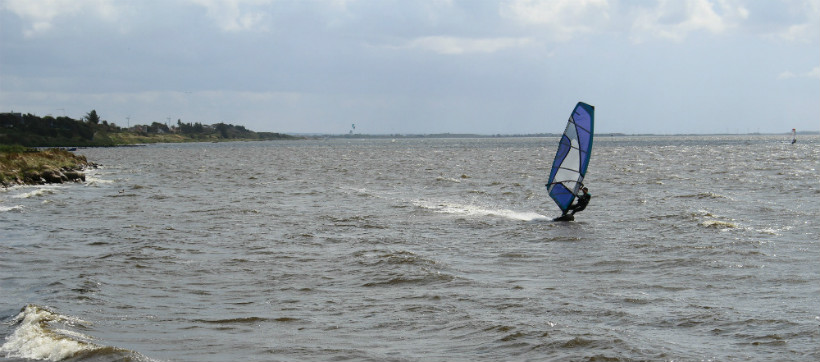 Foto: RKSK
Housing overlooking Fjord and Harbour
Do you want to live in Ringkøbing? The town offers a lot of different housing.
There are new flats with a view to the harbour, small cosy flats and old town houses. There are big old period houses, ordinary family houses and huge villas directly facing the fjord. Click for information about BUYING A HOUSE, RENTING A HOUSE or find a PLOT, if you want to design your own dream house.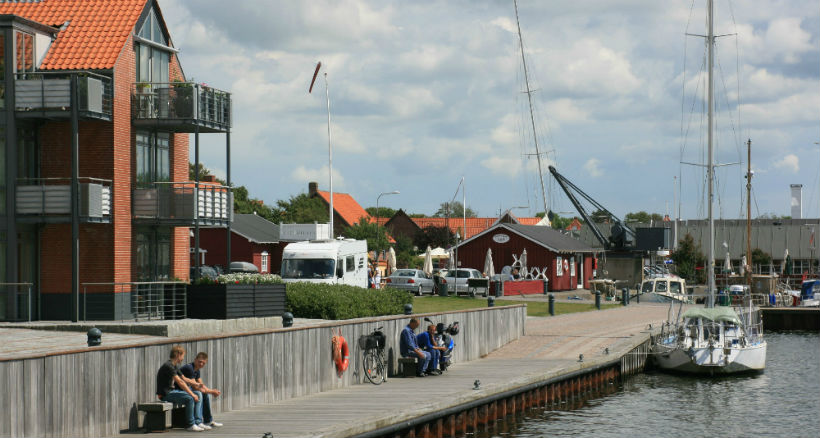 Foto: RKSK
NEW NEIGHBOURHOOD PROJECTS
Besides, right now Ringkøbing-Skjern Kommune is co-operating with Realdania By & Byg developing a totally new and exciting neighbourhood - Naturbydelen Ringkøbing K.
The project covers an area of 84 hectares towards the fjord containing around 1000 houses to be built over a period of years. The first building plot with 36 houses was initiated in the autumn of 2016, so you can become one of its first inhabitants if you move to Ringkøbing now.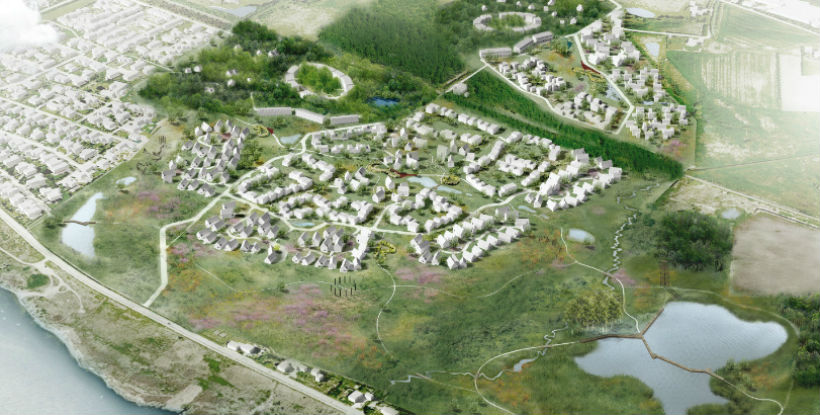 Foto: Ringkøbing K
The Ringkøbing K-project is unique, because it is implemented in reverse order compared to traditional building projects. In other words, the project has been started out by creating the surroundings of the future houses first. Thus, woodland, lake, meadow, fruit grove, berry orchards, roads, paths, and activity places have been established before the first building plot has been launched.
A DIVERSE COMMERCIAL LIFE
Ringkøbing is also a modern commercial town with work places in both manufacturing companies, the professions, trade, and public administration. Several world-famous companies are among others located in Ringkøbing, such as Vestas and the Finn Juul-furniture manufacturer One Collection.
Like so many other places in the municipality, effort is made to attract more places of work to Ringkøbing. Special co-operation between local investors started in the autumn of 2016, e.g. Ringkøbing-Skjern Erhvervspark, whose purpose is to attract new companies to the approximately 34,000 m2 buildings in Ringkøbing, formerly housing the Velfac window manufacturer.
Ringkøbing also holds a special international co-housing scheme - Career Campus - for young students and new graduates, who are in a traineeship or working on a project for one of the companies in Ringkøbing-Skjern Kommune. Here young people meet across professional boundaries and nationalities and form interesting networks. Career Campus, housed in a former nursing home designed by Ulrik Plesner, has just undergone thorough restoration and maintenance during the autumn of 2016.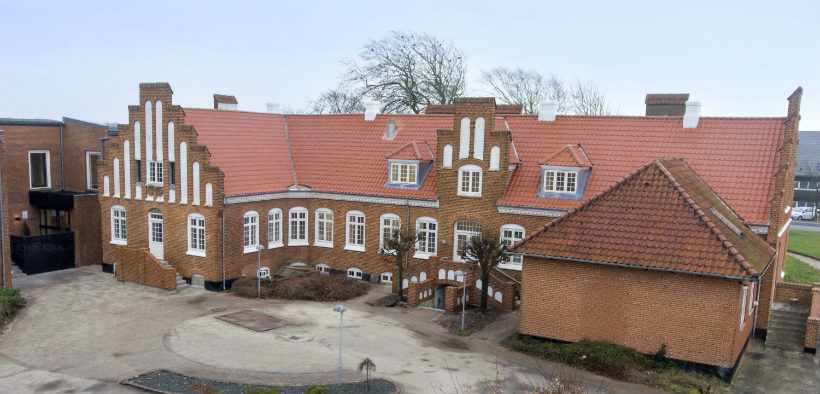 Foto: Ralf Andersen
TRAFFIC
On the map on the FRONT PAGE, you will be able to see how far you can go by car with the most general commuter distances if you settle in Ringkøbing, but have a job in another location. If you need to go farther away, it is only 1 hour's drive to MIDTJYLLAND'S AIRPORT at Karup and only another few minutes to Billund Airport.
You can also get to and from Ringkøbing by TRAIN towards Skjern-Esbjerg, Holstebro-Struer with connections to Skjern-Herning-Aarhus. Furthermore, there are several bus services, i.a. an X-BUS SERVICE to and from Aarhus.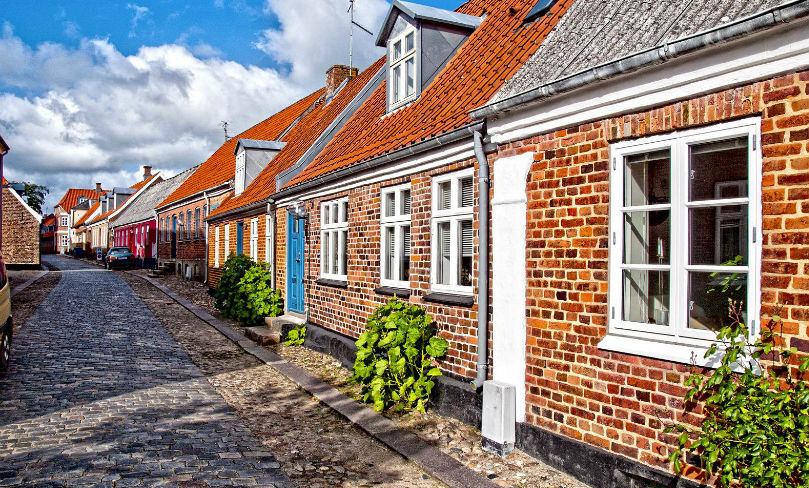 Foto: hvidesande.dk
MORE ABOUT RINGKØBING
If you feel tempted to move to Ringkøbing and want additional information, you can read more about Ringkøbing under Ringkøbing Handelsforening and Ringkøbing Fjord Turisme.
You are also welcome to join a personal guided tour to obtain advice and guidance from the newcomers' guide for the Ringkøbing area.
Below you will find contact information about the day care facilities of the town, schools and other educational institutions as well as sports centres and swimming facilities.
DAY CARE FACILITIES IN RINGKØBING
For further information about the municipal day care and day care centres click here.
DAY NURSERIES
Rindum Børnehus
Vasevej 29, 6950 Ringkøbing
Phone: (0045) 97 32 17 91
rindum-bornehus@rksk.dk
Trinbrættet
Søibergsvej 15, 6950 Ringkøbing
Phone: (0045) 99 74 25 95
Phone: (0045) 29 12 45 54 (Out-door nursery)
alkjaerboerneunivers@rksk.dk
AGE-INTEGRATED DAY NURSERIES WITH CRÈCHES
Alkjærhaven
Søibergsvej 11
6950 Ringkøbing
Phone: (0045) 99 74 25 20
alkjaerboerneunivers@rksk.dk
Vasegården
Vasevej 31
6950 Ringkøbing
Phone: (0045) 99 74 25 90
vasegaarden@rksk.dk
SCHOOLS AND EDUCATIONS IN RINGKØBING
Alkjærskolen
Søibergsvej 3, 6950 Ringkøbing
Phone: (0045) 97 32 16 23
alkjaerskolen@rksk.dk
Ringkøbing Skole
Rindumvej 1, 6950 Ringkøbing
Phone: (0045) 99 74 25 00
ringkobingskole@rksk.dk
10th GRADE
10'eren Ringkøbing
UCRS, Vasevej 20, 6950 Ringkøbing
Phone: (0045) 96 74 57 11
10eren@ucrs.dk
REMEDIAL CLASSES
Rindum Kjærgaard
Kjærgaardsvej 7, 6950 Ringkøbing
Phone: (0045) 99 74 28 50
rindum-kjaergaard@rksk.dk
UPPER SECONDARY EDUCATION
Det Kristne Gymnasium
Vasevej 28, 6950 Ringkøbing
Phone: (0045) 97 32 31 00
kontor@kristne-gym.dk
Ringkjøbing Gymnasium
Vasevej 24, 6950 Ringkøbing
Phone: (0045) 96 74 34 00
post@rkbgym.dk
Gymnasiet HHX Ringkøbing og Ringkøbing Handelsskole
Vasevej 20, 6950 Ringkøbing
Phone: (0045) 97 32 02 00
ringkhs@ringkhs.dk
VUC Ringkøbing-Skjern
Vasevej 24, 6950 Ringkøbing
Phone: (0045) 96 27 58 70
vuc.ringkoebing@ucrs.dk
VOCATIONAL EDUCATION:
For more information, see Ungdommens Uddannelsesvejledning Ringkøbing-Skjern.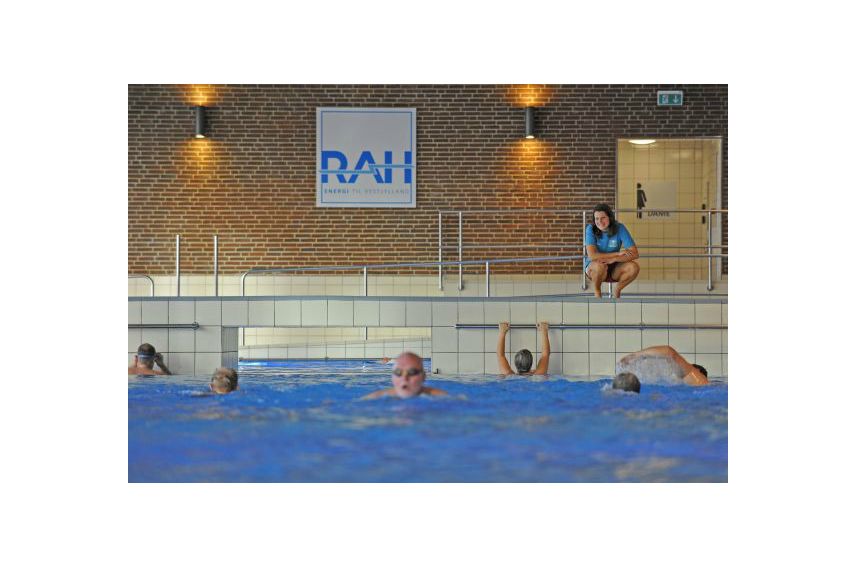 Foto: RKSK
SPORTS- AND SWIMMING FACILITIES
Like any other place in Ringkøbing-Skjern Kommune there is an active association- and club life, part of which is connected with the sports halls. In Ringkøbing you will find Ringkøbing PUBLIC SWIMMING POOL, ROFI Centret and Danhostel Ringkøbing, which is a modern sports- and leisure centre covering 10,000 m2. The ROFI Centre has i.a. two sports halls, including the Green Sports Arena being the hub of RINGKØBING HANDBALL'S big matches, plus squash lanes, fitness centre, billiards, shooting lane, table tennis, and many more. Ringkøbing also has Vesterhavs Hallen and Green Arena.
Under events you will be able to see several big annual events in Ringkøbing, i.a. the Rinkøbingløbet.
Find more local associations in Ringkøbing by clicking HIER, including more information about leisure activities in Ringkøbing-Skjern Kommune under Leisure-nature-culture: Fritid-Natur-Kultur. Use the Google Translate function.